Meet Ayub Kaddu


Ayub Kaddu, born in Uganda, began gardening in high school... and soon discovered that others enjoyed his work as much as he enjoyed doing it. He began a small gardening business and was encouraged by the growing number of referrals from his clients. Demand was so great that he had to hire some of his classmates to help him. Since he moved to the United States in 2001, he continues to hear from his Ugandan clients who are delighted that he visits each year in January and continues to consult on their gardens, as well.

He says, "What I have realized with gardening is that when you have passion in your work, people who pass by the gardens I take care of notice them and become new clients." He especially enjoys working on gardens that change with the seasons.

Ayub usually maintains a client's garden once or twice a month, or on an on-call basis, especially for those clients who have rentals and often cleaning and replanting gardens when a rental is being prepared for sale. Ayub and his crew will make sure your project is done right and priced right!

Ayub Kaddu has earned a Master Gardener certificate from the University of DC.
IT'S FALL CLEANUP TIME! CONTACT US TODAY TO WORK ON YOUR PROJECT!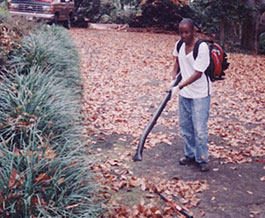 FALL CLEANUP!!
General cleanup, weeding, tilling, cutting back dead plants, mulching and much more!
Garden maintenance/weeding/mulching
Transplanting
Lawn work
Hedge trimming
Stonework/hardscape
Fall cleanup
Power washing
Moving? We will help you pack up!
PRICING:
Most project prices are negotiable on a per job basis. If there are different projects at the same residence, we charge $25 an hour.